Detoxification and Genetics.
The Possum Hollow Website has other articles on detoxification and the chemicals we are exposed to environmentally however, Genetics takes us to another level of understanding. It is so interesting that depending on our genetic profile we are shown which toxins we struggle with and what pathways of detoxification may need help.
For instance here at the clinic with the genetic profiles we can look at the liver and see if the Phase 1 pathway is fast or slow. You would think detoxifying fast is a good thing, yet if not in balance with other pathways this could actually be making things harder. Like we all know - it is a fine balance. In the liver there are three aspects to look at, Phase 1 detoxification leading to an intermittent phase, then to Phase 2 detoxification. If Phase 1 is fast and the Phase 2 is slow, then intermittent toxins can build up that the body is struggling to clear. If however it is too slow then the whole detoxification process can be slow from beginning to end. The first step is to reduce the exposure to toxins and the second step is to aid the liver, bowel and kidney detoxification process.
When talking genetics there are particular "gene variations" that can impact on protein function. Some genes have no impact, others are harmless and then some impacting depending on environmental influences and your genetic variations. Here at the clinic we look at the nutrigenomics, not the clinical genetics. We are not here to cause fear of a disease. We are here to prevent disease. Each gene has a blue print to make specific proteins. Proteins build, regulate, and maintain the body. They can be divided into ones affecting enzymes, transportation or receptors.
Genes are not things that change, however gene function and expression can be modified by choices and nutrients. Knowing about nutrients that influence genes (nutrigenomics) can be critical knowledge to prevent disease.
Knowing your genes can
warn us to avoid certain toxins
give hints to use certain vitamins and minerals to enhance our health
help us make lifestyle changes to benefit our health
give you more personalized health advice
In this article, we learn about certain gene variations to aid your own individual detoxification.
PHASE ONE
These are the genetic variations looked at in our profiles to help understand your phase one:
CYP 1A1 rs1048943
CYP1A1 rs2472297
CYP 2AG rs1801272
CYP 3A4 rs2740574
CYP 1A2 rs7625551
CYP 19A1 rs10046
CYP1B1 rs1800444 and rs1056836
CYP 2C19 rs12248560
CYP2D6 *10 rs1065852/ *4 rs3892097
The plethora of information you can find out by having these ones tested are things like having issues with metabolising estrogen (this can be an issue with estrogen dominance/ PCOS/ Endometriosis/ breast or prostate cancer), nicotine, caffeine or xenotoxins. How exciting is it to know how fast or slow you metabolise your daily coffee. It helps you see if your Phase 1 is either fast or slow. With this information the practitioner can guide and treat to create a balance. Some orthodox medicines are metabolised with these enzyme affects and if there are issues then maybe the a more optimal choice can be looked with your doctor. Some of the nutrients used to help this phase are B2, B3, B6, B12, Folate, phospholipids, glutathione and flavonoids, depending on the SNP or a gene looked at.
Then there are protective nutrients used for the intermediate stage that as a practitioner we look at, like ubiqinol, vitamin C, cruciferous vegies, vitamin E, selenium, copper, bioflavonoids, zinc, milk thistle, manganese or resveratrol.
PHASE 2
GSPTP1 rs1695 and rs1138272
NAT2 rs1495741 and 1801280 and 1041983
Phase 2 if prone to be slow can hold up things in Phase 1 and the intermediate stage of detoxification. This can cause accumulation of toxins within the liver. By knowing the genetic profile of your detoxification it can give your practitioner answers to helping the body eliminate xenobiotic compounds, heavy metals, aromatic amines( benzenes, toluene, caffeine) and to know which substances would be useful like cysteine or taurine or glutathione. Other substances that can help Phase 2 may be Glycine and Glutamine.
OXIDATIVE STRESS
Many people ask -what is oxidative stress? Oxidative stress is essentially an imbalance between the production of free radicals and the body's ability to detoxify their harmful effects through antioxidants.
The genes looked at in profiles are
SOD rs4880
GPX1 rs1800668 or 1050450
CAT rs1001179
NQO1 rs1800566
PON1 rs662
SLC23A1 rs33972313
The types of things you are looking at to help the practitioner work out your needs are your tolerance to Organophosphates, Bisphenol A, Benzenes and Phthalates. The nutrients looked at are high SOD antioxidants like broccoli sprouts, manganese, vitamin C, glutathione, ubiqinol, vitamin E and watching if prone to high iron levels. I think this picture depicts oxidative stress well.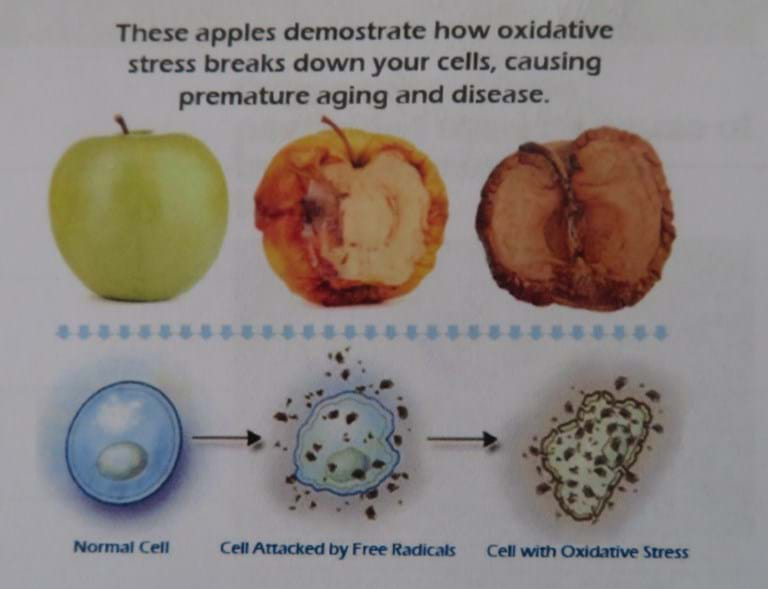 METHYLATION
Methylation is one of the most important biochemical pathways in the body. It is not only used for detoxification but biotransformation of chemicals. It occurs billions of times every second in the body. Methylation is getting discussed quite a lot with the MTHFR gene becoming quite a popular one to find out about. MTHFR is only one gene variation though. Methylation is the process by which methyl groups are added to the DNA molecule, RNA synthesis, neurotransmitters, hormones, immune cells or nerve cells. Imbalances in methylation can be a problem in not only detoxification but also in moods, cognition, cardiovascular issues, to name a few.
The Genes looked at here are:
MTHFR rs18011133 and rs 1801131
CBS rs234706
COMT rs4680
These genes variations will give the practitioner information to teach you about and help look for requirements of methyl B12, MTHFR, B2, Betaine, Glutathione and Tyrosine. It also helps us understand people's effects of dairy, homocysteine, depression, anxiety, gluten and alcohol, and why you can feel so tried and grumpy after these foods. COMT is often looked at with neurotransmitters yet it plays a role in estrogen metabolism as well.
If you would like to look at you detoxification profiles using your genetics please discuss with your naturopath.