Cherry Puddings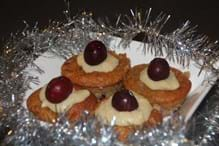 Ingredients
240 grams of almond meal
60grams of rice flour
1 teaspoon of cinnamon
1 teaspoon of nutmeg
3 clove crushed
300 grams of raw sugar
2 1/2 Tablespoons of yogurt
pinch of salt
8 eggs
1/3 cup of rice milk
100mls of Macadamia oil
50 fresh cherries pitted
icing sugar to dust over
LOVE
Directions
1. Preheat oven to 170 degrees C. Lightly butter 8 individual shallow pans.
2. Combine almond meal, flour, sugar, spices and salt in a bowl and mix well.
3. Whisk the eggs in a separate bowl. Continue to whisk while you add the rice milk and oil.
Gradually add the almond mixture whisking constantly until thoroughly combined.
4. In the greased shallow pans divide the cherries up into the individual pans evenly. Ladle the batter over the cherries filling to nearly the top of the pans.
5. Bake in the oven for 15 minutes or until the batter is no longer sticky when testing with a skewer.
6 Allow to cool lightly then dust with icing sugar and serve with rice flour custard or vanilla bean natural yogurt